Language and cultural barriers can sometimes serve as a deterrent to seeking out mental health services. A new project at PACES, called Paso a Paso (Step by Step), is working to reduce those barriers for the Hispanic and Latinx communities in Wyandotte County one step at a time.
Paso a Paso focuses on bridging the gap between PACES and the Spanish-speaking community. The project's goal is to reach out to the Hispanic and Latinx communities and let them know that PACES can provide culturally competent services in a family's preferred language.
"By having knowledge of the culture where families are coming from, it helps families feel more comfortable speaking in their own language," says Monica Enriquez, program manager for Paso a Paso. "We want them to feel comfortable at PACES."
In Wyandotte County, Hispanic and Latinx individuals make up nearly 30 percent of the population. However, in 2020, only about 25 percent of the clients served at PACES were from the Hispanic or Latinx communities.
"We need to serve this community," says Paris Clark, manager of outpatient therapy. "Language is one way of doing that, but we also need to learn about the culture and how to approach certain topics so that we're not disrespecting a cultural value or diminishing the value of the culture."
To help reduce language barriers between PACES staff and families receiving services, PACES works with Adelante, a culture and language coaching program through Children's Mercy. Enriquez is a coach with Adelante. She observes and works with other mental and behavioral health care providers to help ensure accurate communication and improve cultural awareness and language skills.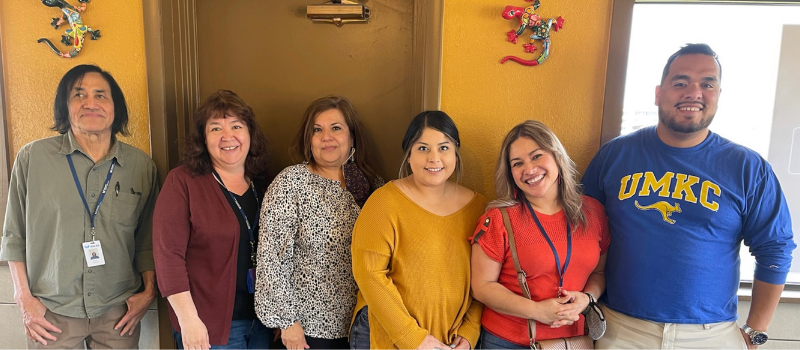 While PACES does have a few bilingual case managers and therapists on staff, a translation service is sometimes used in situations where a bilingual provider is not available to meet with a family. The ultimate goal of the Paso a Paso project is to create a treatment team that would be dedicated to serving the unique needs of the Hispanic and Latinx population in a culturally competent manner. All service providers on the Paso a Paso treatment team would be fluent in English and Spanish.
The Paso a Paso project is also working to improve outreach efforts to help reduce the stigma that exists around mental health in the Hispanic and Latinx communities. While there are a number of things that feed into that stigma, communication is often a major factor.
"Language barriers between parents and children is a problem," says Clark. "Parents or grandparents might only speak Spanish and the kids might only speak English. That messes with the relationship when they can't fully communicate with each other. They might communicate in other ways, but it might not be enough to explain how they really feel."
Paso a Paso wants to help educate and raise awareness around mental health topics in the Hispanic and Latinx communities so that children and families have a better understanding of different mental health challenges. Clark and Enriquez say that many of the children who come to PACES for services are referred by their schools and sometimes the families don't understand why their child is in need of services.
"We want our families to feel empowered. We want them to have all the tools they need to be successful and to help their kids when they are going through a mental health challenge."
"We need to talk about what mental health is," says Enriquez. "We need to talk about concepts like anxiety. Some families don't know about anxiety and might not understand why a kid is stressed. Just because they're kids doesn't mean they're exempt from having mental health challenges."
Enriquez took a step forward in helping with mental health education in the local Hispanic and Latinx communities when she led a weekly Parent Support Group in Spanish in late 2020 and early 2021. She says she was pleased with the response and is hoping to offer the group again in the future.
Enriquez and Clark say their hope is that Paso a Paso will help Spanish-speaking families in Wyandotte County feel comfortable coming to PACES for services and support.
"We want our families to feel empowered," Clark says. "We want them to have all the tools they need to be successful and to help their kids when they are going through a mental health challenge."