Robert's Place Heroes: Celebrating 5 Years of Keeping Kids Safe
On August 31, 2015 PACES opened Robert's Place Children's Emergency Shelter. Robert's Place was built with love and support from donors across Kansas City and beyond. Named in loving memory of Robert Zevenbergen, our shelter is a safe haven for children in crisis. Now celebrating our 5th Anniversary, Robert's Place remains a valued community service for children and familes and the only children's shelter of its kind serving the Wyandotte County, Kansas community. 
Your financial support and donations make a world of difference for kids in crisis. Your gift provides shelter, food, clothing, personal care items, and support for children during their stay. Because of you, Robert's Place is a warm and welcoming home where children can begin the healing process.
A $25.00 gift provides children with basic personal care items like shampoo/conditioner, soap, toothpaste, toothbrushes, etc. 
Your $50.00 donation will help provide breakfast, lunch and dinner for children during their stay.
$100 helps keep kids relax and have fun with board games, journals, books, arts and crafts, etc. 
A gift of $250 can provide a child with emergency shelter or respite care for one day/night. 
$500 provides emergency shelter and everything a child needs during their stay. 
Your $1,000 investment provides shelter and critical support for shelter operations and maintenance.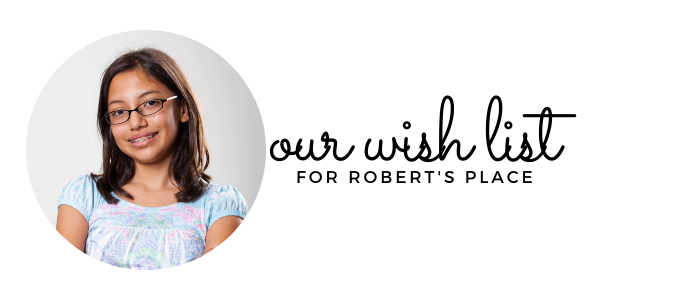 Robert's Place Wish List
Many children at Robert's Place arrive with no personal items. Your donations of personal care items, games, toys and clothing from our wish list helps make their stay more welcoming and comfortable. All donated items must be in new/unopened condition. Here are the items we need the most:
Personal Care Items
Travel size shampoo, conditioner, lotion and toothpaste
Toothbrushes and dental floss
Ponytail holders and scrunchies
Nail polish, nail gems
Combs and brushes
Recreation Activity Supplies 
Craft supplies: glue, glitter, paper, etc.
Jewelry-making kits
Watercolors & paints
Children and adult coloring books
Crayons, markers and pens (regular and colorful)
Board and card games: Conect Four, UNO, Operation, Family Fued, etc.
X-Box and E-rated X-Box games
Children and adult puzzles and activity books
Yoga mats
Yarn and crochet tools
Puppets and children's costumes
Writing journals and note cards
Young adult books
Diverse books about race/gender
Ping pong table or air hockey table
Garden tools, gloves, plants and seeds
Fidget cubes and spinners
Indoor basketball goal
Clothing for Ages 3-17*
Pajamas. socks and underwear
Casual clothing: Jeans, t-shirts, sweatpants/shirts, etc.
Flip flops (S, M, L, XL)
*Clothing for teen boys and girls is most needed and very appreciated
Miscellaneous Items:
Individually wrapped snacks
Juice boxes and Capri Sun drinks
Gift cards to Walmart and Target
Patio table, umbrella and chair set
Large umbrella for outside
Weighted blankets
Night lights
Kitchen utensils: ice cream scoop, cookie cutters, etc.
Kitchen cutlery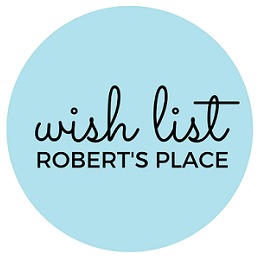 A place to be safe when it's needed the most. Your donations help kids feel welcome and more comfortable during their stay at Robert's Place. Please contact Allison.McLain@WyandotBHN.org or 913-233-3307 if you have questions about donating items from our Wish List. Your support is appreciated, thank you!